Licensed Geothermal Drilling Service
Lang Well Drilling, Inc. is licensed by the state to drill wells for geothermal systems. Our license number is OWRB – DPC0616. Count on our over 15 years of experience to drill great geothermal system wells. Lang Well Drilling, Inc. is licensed by the state, so leave all your drilling needs to us.
Ground Source Heat Pumps Offer Great Benefits:
Some can save you up to 50% on your water-heating bill by preheating tank water
Can be a combination heating/cooling and hot water heating system
Made of mechanical components that are either buried in the ground or located inside the home
About the same size as a traditional heating/cooling unit
Can cut energy consumption by 20 to 50% and reduce maintenance costs
Keep the air warmer in the winter (90 -105¡ F) and at a more consistent temperature throughout the home, eliminating the hot and cold spots common with other systems
Very quiet, providing a pleasant environment inside & outside the home
No noisy fan units to disturb outdoor activities
No exposed equipment outdoors; children or pets cannot injure themselves or damage exterior units
No open flame, flammable fuel or potentially dangerous fuel storage tanks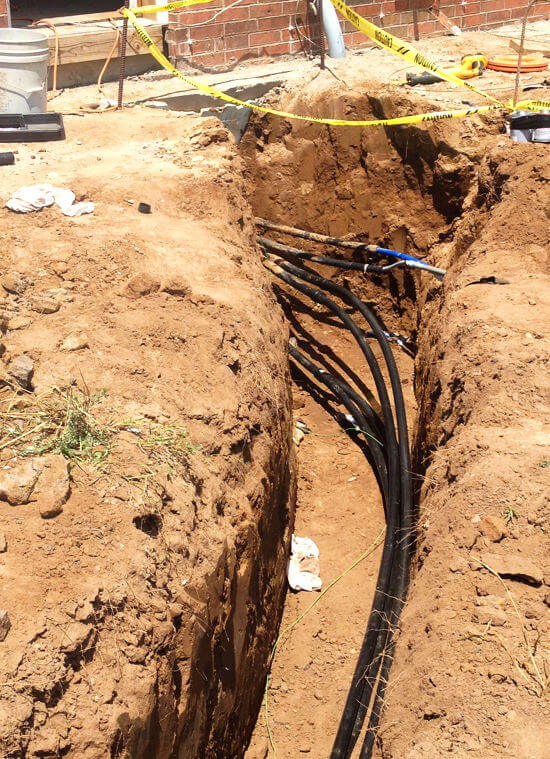 If you choose to have a geothermal heating and cooling system, then by far you will have a high-level of comfort. In geothermal systems, there is a dual-capacity compressor involved that improves the comfortability level of a home or office. A properly installed dual-capacity compressor will work at a low capacity and will provide your home or office with a consistent temperature.
The second part of a geothermal heating and cooling system that allows it to make your home more comfortable is a variable speed blower. A variable speed blower will operate at appropriate speeds, providing a lower output of air during times of lower operation, as well as a higher output when a higher capacity of air is needed. In addition, a premium quality air filtration system and humidity control can be included to the geothermal heating and cooling system for extra comfort. There is also a ground loop that can be added. An adequate ground loop will keep the system running at the proper capacity, helping it to work at a quiet level in your home.
Contact us at (580) 233-6557 or langwelldrilling@suddenlink.net today to schedule a consultation with our team!